Could you help someone live a healthier lifestyle?
Have you made lifestyle changes to improve your health? Are you passionate about helping others to do the same? Please click on the links below to find out you can help .
U Can volunteer A5 leaflet v1 (003)
DrinkCoach Supporters Pack
You can help us make a difference!
What is DrinkCoach
DrinkCoach is part of Humankind Charity and offers a number of digital products to encourage self-assessment, monitoring and behaviour change related to alcohol use.
Find out more about our products on https://drinkcoach.org.uk
The DrinkCoach Alcohol Test
The DrinkCoach Alcohol Test is a free, quick and confidential way for people to get feedback and advice about their drinking. The test is a digital version of the Alcohol Use Disorders Identification Test (AUDIT) comprising 10 validated questions to reliably assess a person's level of risk from their drinking. Test takers receive personalised advice and local follow up options based on their AUDIT score.
The DrinkCoach Alcohol Test is now available in South Tyneside
The DrinkCoach App
The DrinkCoach app is free to download and use and available on iOS and Android. It has a range of useful features designed to help people track and change their drinking on the go. App users can:
Use the Drink Tracker to monitor their unit intake, calories and cost
Share their summary directly with their keyworker or family/friends
Create and set goals
Set up location and time based alerts and reminders
Use the event diary to record hangovers and incidents
Access mindfulness videos for urge surfing
Take the DrinkCoach Alcohol Test
The App can be downloaded here
South Tyneside have partnered with @DrinkCoach to launch a new tool for residents. Take the free, quick and confidential Alcohol Test today. Get personalised feedback about your drinking. #TakeTheTest
https://drinkcoach.org.uk/south-tyneside-alcohol-test
Health Promotion – When Stroke Strikes Act F.A.S.T
Public Health England in partnership with NHS England and Improvement have relaunched the national "Act F.A.S.T." stroke campaign across national channels. The campaign is designed to inform the public about the signs of a stroke and to encourage people who recognise any single one of the symptoms of stroke, in themselves or others, to call 999 immediately.
Today, Tuesday 9th March, is the PR launch for the campaign with campaign messages being supported across TV advertising, broadcast video on demand (catch up TV), radio, social media, as well as PR, alongside tailored and translated communications for ethnic minority communities. The campaign is running until early May, creating lots of opportunities to get involved.
We have launched an updated Act F.A.S.T. campaign as stroke strikes every five minutes in the UK – and can change lives in an instant. Yet the pandemic has seen a significant fall in stroke admissions and 1,413 excess deaths from stroke between 21 March 2020 and 22 January 2021 (7% higher than expected).
The campaign is built around the 'Act F.A.S.T.'  (Face, Arms, Speech, Time) acronym to emphasise the importance of acting quickly by calling 999:
Face – has their face fallen on one side? Can they smile?
Arms – can they raise both arms and keep them there?
Speech – is their speech slurred?
Time to call 999
The faster a stroke patient receives treatment, the better their chances are of surviving and reducing long-term disability.
Winter Wellness – Support our Mental Health Campaign
Information to request a free campaign pack  Winter wellness campaign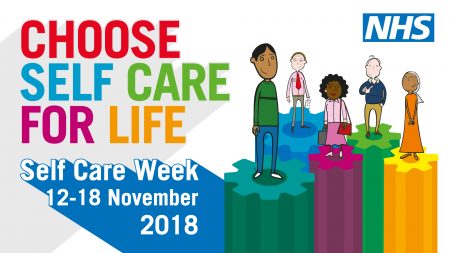 Self Care Week is 12-18 November 2018
There are some self-limiting illnesses you may find quicker to treat at home or with the advice of your local pharmacist.  Please see some links below to some fact sheets which may be able to assist you with your recovery.
20131030-SCF-Fact-Sheet-No-11-Otitis-Media-v1-final
20131030-SCF-Fact-Sheet-No-12-Common-Cold-v1-final
20131030-SCF-Fact-Sheet-No-13-Sinusitis-v1-final