April is Bowel and Testicular Cancer Awareness month.
Click on the links below for more information
Bowel Cancer Awareness Month – Link to resources HERE
 Testicular Cancer Awareness Month – Link to resources HERE
https://www.cancerresearchuk.org/about-cancer/bowel-cancer/getting-diagnosed/screening
Bowel screening aims to find cancer early or to find changes in your bowel that could lead to cancer.
The screening programmes send a bowel cancer testing kit every 2 years to people who can take part. You need to be registered with a GP to receive your screening invitations. The test is called FIT – Faecal Immunochemical Test. It looks for tiny traces of blood. You do the test at home. The kit contains instructions of what to do including a prepaid envelope to send the sample to the hospital.
You should get the results within a few weeks. The letter will tell you what you need to do next. There are benefits and risks.
INTRODUCING SOLID FOODS
A new 'Introducing solid foods' campaign will launch on 4th March 2022, The campaign will offer parents support and advice on introducing solid foods to their baby, during what can be a confusing time.
As part of the campaign, a 'weaning hub1' is available on the Better Health Start for Life website to help parents introduce solid foods to their baby. Packed with NHS-endorsed advice, videos and tips, plus simple, healthy recipes, it puts everything parents need to know in one place.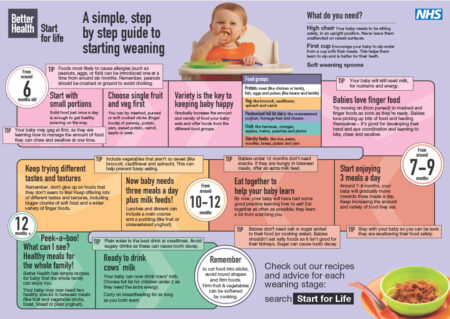 ONLINE SUPPORT FOR A HEALTHY LIFESTYLE
Take the first step in managing your weight today.
If you are living with obesity and have diabetes or high blood pressure, or both, you could benefit from the 12 week NHS Digital Weight Management Programme.
It can be hard to keep healthy and active but this free programme can help you develop healthier eating habits, be more active and lose weight – available on your smartphone, tablet or computer.
Speak to your GP practice today and find out how the programme could benefit you or click on the link below for more information:
http://www.england.nhs.uk/digital-weight-management
Sugar Awareness Week 8th-14th November 2021
According to official figures from The British Diabetic Association, 1 in 15 people have diabetes and 1 million are living with Type 2 without being diagnosed.  Learn a bit more about sugar and how to decrease your intake
ALCOHOL CAUSES CANCER MEDIA CAMPAIGN NOV 2021
On Monday, November 8th, Balance will be launching a major campaign in the North East and North Cumbria, to highlight the links between alcohol and cancer and encourage people to cut down on their alcohol consumption. This will be running across television, video on demand, radio and online.
The aim of the "Alcohol Causes Cancer" campaign is to provide our public with a compelling "stop and think" moment around alcohol following worryingly high levels of drinking during the pandemic and a record year for alcohol specific deaths, with the highest rates in the North East.  It will raise awareness that alcohol causes at least seven different types of cancer, including bowel, breast, mouth and throat cancer, and encourage people to cut down to reduce their risk."Alcohol Causes Cancer" is being funded by all 12 local authority public health teams in the North East, with substantial NHS funding from the North East and North Cumbria Integrated Care System, which will enable advertising to run on ITV television in the North East (Tyne Tees) and North Cumbria (Borders).
The campaign will be branded with the Balance, NHS and "Supported by Cancer Research UK" logos. This toolkit is aimed at helping partners support the campaign and is to be used alongside digital and printed resources to amplify the campaign message across local authority, primary and secondary care settings.
Alcohol is a causal factor in more than 60 medical conditions, including: mouth, throat, stomach, liver and breast cancer, high blood pressure, cirrhosis of the liver, and depression.
 Drinking alcohol increases the risk of at least seven types of cancer [i] – of the bowel and breast, mouth and throat, voice box, oesophagus and liver. The UK Chief Medical Officer's Low Risk Alcohol Guidelines[ii] state that the risk of cancer starts from any level of regular drinking and rises with the amount of alcohol being drunk.
1 in 25 newly diagnosed cancer cases in the last year may be associated with drinking alcohol, according to a global study published in The Lancet Oncology.
Alcohol consumption has been shown to cause damage to DNA by increasing the production of harmful chemicals in the body. It can also affect hormone production, which can contribute to cancer development and worsen the cancer-causing effects of other substances, such as tobacco[iii].
Breast cancer is the most common cancer in the UK and drinking alcohol is one of the biggest risk factors for breast cancer. Around 4,400 breast cancer cases each year are caused by drinking alcohol. The risk increases even at low levels of drinking.[iv]
Drinking alcohol is worse for you if you smoke. This is because tobacco and alcohol work together to cause much more damage to cells. This increases the risk of cancer.[v]
Health:
Alcohol is now the leading risk factor for ill-health, early mortality and disability among people aged 15 to 49 in England and the fifth leading risk factor for ill health across all age groups[vi].
Liver disease: Liver disease is on the rise. Since 1970, deaths due to liver disease have increased by 400%[vii].
High blood pressure and stroke: Alcohol can increase your risk of high blood pressure and stroke, even if you don't drink very large amounts. And if you've had a stroke, alcohol could increase your risk of another stroke.
Immune system: The World Health Organisation has warned that alcohol use, especially heavy use, can weaken the immune system and leave us more vulnerable to infectious diseases like Covid [viii].
Mental health: According to the Royal College of Psychiatrists, regularly drinking alcohol affects the chemistry of the brain and can increase the risk of depression, low mood and anxiety. Drinking can make you feel more tired and lower in mood.
Brain: Alcohol can cause damage to the brain. According to the Alzheimer's Society, those with Alcohol Related Brain Damage (ARBD) suffer from problems such as memory loss and difficulty concentrating, similar to Alzheimer's disease.
Weight: Many people aren't sure about the number of calories in their drinks and these can easily stack up. Reducing how much alcohol we drink is a good way to keep our weight in check.
To make things worse, alcohol use has soared in the last 18 months, especially among people who are already drinking heavily:
Alcohol related deaths in England hit a record high during 2020 amid the pandemic, with the worst rates in the country in the North East[ix].
There were over three quarters of a million alcohol-related hospital admissions nationally between April and December 2020, with three-quarters involving patients over the age of 50[x].
A major survey by Balance across the North East – thought to be the largest in-depth study of alcohol use in any English region during the pandemic – found:

4/10 adults, or an estimated 855,000 people in the region, were drinking above Chief Medical Officers' low-risk guidelines.
Heavier drinkers were more likely to have increased how often they drank during the pandemic[xi].
Heavier drinking is highest amongst 45 to 54 year olds; almost one in two people in this age group are drinking at levels which increase their health risks.
Even in retirement (65 plus), one in three adults are consuming above the low risk drinking guidelines.
National data also highlights the role alcohol plays in exacerbating health inequalities:
People living in deprived areas are more likely to experience an alcohol-related hospital admission or die of an alcohol-related cause[xii].
The rise in drinking has been greater among people from less affluent backgrounds (64%)
Despite this, awareness about the health risks associated with alcohol is low.  In 2020, only 1 in 3 (33%) North East adults were aware that alcohol can cause cancer, down from 4 in 10 in 2019. The public has a "right to know" that alcohol is harmful and mass media campaigns, such as Alcohol Can Cause Cancer, raise awareness of this crucial information.
What is DrinkCoach
DrinkCoach is part of Humankind Charity and offers a number of digital products to encourage self-assessment, monitoring and behaviour change related to alcohol use.
Find out more about our products on https://drinkcoach.org.uk
The DrinkCoach Alcohol Test
The DrinkCoach Alcohol Test is a free, quick and confidential way for people to get feedback and advice about their drinking. The test is a digital version of the Alcohol Use Disorders Identification Test (AUDIT) comprising 10 validated questions to reliably assess a person's level of risk from their drinking. Test takers receive personalised advice and local follow up options based on their AUDIT score.
The DrinkCoach Alcohol Test is now available in South Tyneside
The DrinkCoach App
The DrinkCoach app is free to download and use and available on iOS and Android. It has a range of useful features designed to help people track and change their drinking on the go. App users can:
Use the Drink Tracker to monitor their unit intake, calories and cost
Share their summary directly with their keyworker or family/friends
Create and set goals
Set up location and time based alerts and reminders
Use the event diary to record hangovers and incidents
Access mindfulness videos for urge surfing
Take the DrinkCoach Alcohol Test
The App can be downloaded here
Target Audience
DrinkCoach aims to reach all adults aged 18+ living in your area.
Our products are easily viewed across a number of devices including mobile, tablet or computer/laptop.
DrinkCoach Channels
Twitter: @drinkcoach
Facebook: Drinkcoach
Website: https://www.drinkcoach.org.uk
App: DrinkCoach+
Hashtags
#TheAlcoholTest
#DrinkCoachApp
 Blogs
Please visit our website and feel free to share our blogs: https://drinkcoach.org.uk/blog
 Tips for Cutting Down
You can sign up to the free 52 Tips mailing list, full of helpful strategies from our service users and advice from our Drink Coaches. Get weekly inspiration straight to the inbox. Sign up at: https://drinkcoach.org.uk/
How you can help
We've created some messages and accompanying images for you to share. Please feel free to adapt and amend them to suit your organisation's brand/tone of voice. All that we ask is that you use the hashtags:
#TheAlcoholTest
#DrinkCoachApp
And tag @DrinkCoach & South Tyneside in all posts so they can be shared.
To download supporting images, please visit the DrinkCoach website.
Web Banners
Is there a place on your website that you can link to DrinkCoach? Whether it's a dedicated alcohol information or local services page, we would appreciate a link to the DrinkCoach Alcohol Test.
Website Banners for the Alcohol Test are available in 3 sizes and can be downloaded here
Use the URL: https://drinkcoach.org.uk/south-tyneside-alcohol-test
Use the following content on your website:
The Alcohol Test
Want to know how risky your drinking is? Take the 2-min Alcohol Test; it's free, quick and confidential. Receive personalised advice and information about local support options in South Tyneside. Take the DrinkCoach Alcohol Test today.
URL link: https://drinkcoach.org.uk/south-tyneside-alcohol-test
Free DrinkCoach App
If you want to track your units, calories and cost and set goals to reduce, download the free DrinkCoach App now, available on iOS and Android.
https://drinkcoach.org.uk/drinkcoach-app-folder-only
More images available to download here
Digital Assets and Printed Materials
Do you have a waiting area or give information packs to service users?
Your stakeholder pack contains some posters and info cards. Please display these in your services where possible or consider how the Alcohol Test can be used within your assessment of service users.
If you have a TV screen displaying local service information DrinkCoach has a selection of pre-sized digital screen images that you can download and use.
Newsletters
If you have staff or service user newsletter or bulletin you might want to consider including information about DrinkCoach. There's some pre-written copy below.
South Tyneside launch DrinkCoach to help residents tackle their alcohol use
Free online Alcohol Test and App to help residents cut down
Humankind have launched DrinkCoach, a website and app to help residents find out more about their drinking. DrinkCoach allows people to assess how risky their drinking is and receive personalised advice online.
Many people enjoy alcohol responsibly; however it can also have a negative impact. The Department of Health estimate that 83% of people drinking above the recommended guidelines do not know they are putting their health at risk.
The DrinkCoach Alcohol Test is a quick and confidential way for people in South Tyneside to find out how risky their drinking is. By answering 10 simple questions, the test taker receives advice and, where appropriate is sign posted to local services.
In addition anyone can use the DrinkCoach App. The DrinkCoach App is free to download and use and is available on iOS and Android. It is a great tool to help people track and change their drinking. The App contains loads of useful features such as unit, calorie and cost calculators, goal setting, location based reminders, hangover diary, summaries and share functions.
To take the DrinkCoach Alcohol Test visit https://drinkcoach.org.uk/south-tyneside-alcohol-test
The DrinkCoach website is a great resource for staff and service users with a unit calculator and general alcohol information. Visit our website and feel free to share our page links. https://drinkcoach.org.uk
DrinkCoach Shop
DrinkCoach also has a number of printed resources including Unit Measure Cups, Unit & Calorie Wheels, Scratchcards and more. Visit the https://drinkcoach.org.uk/drinkcoach-shop for more information on products and prices.
For more information about any details in this pack please contact the DrinkCoach Team at innovation@humankindcharity.org.uk
Frequently Asked Questions
Is my data safe?
DrinkCoach takes data protection seriously. All DrinkCoach products have been data protection impact assessed and comply with GDPR legislation. No identifiable data is collected or stored when you use the Alcohol Test or App. We do not sell or pass on details to any third party.
Will I be identified?
The Alcohol Test is confidential and you are not required to enter any personally identifiable information. Some basic demographic information is collected (age range, gender, ethnicity) but the data is then aggregated in Google Analytics e.g. 51% female. The Local Authority do not receive any information that would identify residents that take the test.
Does DrinkCoach see what I enter into my app?
Some apps require you to set up an account with a username and password. For a smooth user journey experience DrinkCoach does not have this feature. When you download the app, any data you enter into the App is stored on your device (mobile, tablet) only. DrinkCoach does not have access to any data you enter. When you delete the app your data is permanently deleted.
Am I being tracked when I use the App?
DrinkCoach is not designed as a track and trace app. There is a location based reminder feature in the app. If you wish to use this feature you will need to allow the GPS function in your phone to be activated. This GPS function is only used to allow the location reminder to work – eg if you walk into your local pub the reminder note will pop up on your notifications. You can adjust (turn notifications on/off) within your settings at any time. DrinkCoach is not able to see where you are nor are we able to provide that data to a third party.