Seasonal Flu Vaccine
If you are in an at risk group (age 65 or over or under 65 with a long term condition such as heart disease or diabetes) flu vaccines are available by appointment now.  Our flu vaccines will be delivered off site at Living Waters Church – please contact reception to book.
Please note: Age 50-64 NOT in a recognised at risk group will NOT be invited in for a flu jab until November or December 2020.  This is to ensure we vaccinate those who are most vulnerable first.
Do not leave your home if you have either:
a high temperature – this means you feel hot to touch on your chest or back (you do not need to measure your temperature)
a new, continuous cough – this means coughing a lot for more than an hour, or 3 or more coughing episodes in 24 hours (if you usually have a cough, it may be worse than usual)
If you need medical help for any reason, do not go to places like a GP surgery, pharmacy or hospital. If you have symptoms of coronavirus (a high temperature or a new, continuous cough), use the 111 coronavirus service.
If you need help or advice not related to coronavirus:
for health information and advice, use the NHS website or your GP surgery website
for urgent medical help, use the NHS 111 online service – only call 111 if you're unable to get help online
for life-threatening emergencies, call 999 for an ambulance
Update: 24th March
"We are approaching a critical phase and make no mistake, the North East cannot avoid the very real consequences of this disease. We need to protect ourselves, our families, our key workers and every community across the North East. To do so we must act now. Every single one of us in our region must take responsibility and practice social distancing.
"Those who can work from home should do so. Those who work in essential services and need to go their workplace should rigorously pay attention to social distancing in that workplace. Avoid non-essential use of public transport. We should only go shopping for essential items such as food and medicines and if we do, then we must take great care to keep a safe distance (2 metres) from other people. I know following this guidance is hard. But we must avoid gathering with our wider family and friends where possible and avoid large and small gatherings in public spaces. If we need fresh air and exercise then we must stay close to home and avoid other people.
"Finally, as the Easter break approaches and the weather improves, our natural instinct is to think of the many wonderful assets and beauty spots we have across the North East. I would say in the strongest possible terms we are living in exceptional times and we all need to make very real adjustments and sacrifices to protect ourselves and others. Stay at home, do not travel other than for necessary work or essentials and please follow the guidance here to stay safe: Social distancing to protect vulnerable groups "
Professor Peter Kelly, PHE North East Centre Director
How to get help during the coronavirus pandemic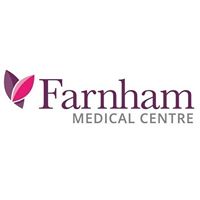 Our practice is highly patient-focused, and we have a multidisciplinary approach to patients' health care. We aim to deliver the best for our patients by combining the skills of the practice team with other health and social care workers in the community.
We provide modern health care facilities and focus on continually improving the health of our patients and residents of the community.
With this website, we aim to provide you with relevant information about our practice, our services and our staff in addition to some other useful information and tools available for you to use. Please have a look around and send us any comments or suggestions if you like. We can use your comments and ideas to improve our online services and develop the content of this site accordingly.
All patients at Farnham Medical Centre are allocated a named GP. If you do not know your named GP, please ask at reception, and you will be informed. This does not prevent you from seeing any GP in the practice, as you currently do.
WOULD YOU PREFER TO READ THIS WEBSITE IN ANOTHER LANGUAGE?
Google Translate offers a free automated translation although for whole websites this is now only available using Google's Chrome web browser.  Navigate to www.farnhammedicalcentre.nhs.uk on Chrome, and the browser will ask you if you want to translate our website into your default language.
A 'HEALTHY LIFESTYLE IS WHAT WE RECOMMEND':
Stop smoking
Eat a balanced diet with plenty of fruit and veg
Exercise regularly
Keep alcohol intake within recommended limits
FREE NHS HEALTH CHECK
If you are 40 to 74 years of age, find out about NHS Health Checks.
Even though you might be feeling great, if you are over forty you may be at risk of heart disease, stroke, kidney disease, diabetes or dementia.  An NHS Health Check can help you reduce these risks and make sure that you stay healthy.
Please make sure all of your details are up to date.
We will communicate with our patients via text message and email.