Winter Wellness – Support our Mental Health Campaign
Information to request a free campaign pack  Winter wellness campaign
Keep Your Family Safe This Christmas
Keep your family safe this Christmas by following guidelines. Here's an important message from your local NHS.
Seasonal Flu Vaccine – now calling 50-64 year olds
It's still not too late to get your flu vaccine if you are over 65 or under 65 and in an at-risk group.  We are now calling all 50-64 year olds not previously in at at-risk group.  If you fall into any of these groups, please contact us to either book in or to let us know if don't want it so we can share our resources with other patients in the area if needed.  Give yourself the best chance of staying as healthy as possible by getting the flu jab now!
We are using Flublok vaccination manufactured by Sanofi.  Further information.
View Patient Information Leaflet for this vaccine 
Covid Vaccine – patients over 75 now being vaccinated
We are co-ordinating our efforts to plan for a covid vaccination programme with other local practices.  Please make sure we have your up to date contact details – including mobile phone numbers – so we can communicate with you as effectively as possible.  You can use the admin feature of e-consult on this page to pass your details on for us to check.
Patients 75 years of age and over are now able to book in for their course of covid vaccinations.  Clinics for patients of this practice will be held at Flagg Court in South Shields (not at the practice).  Please ring Reception now on 0191 4554748 to book your appointments – demand is high so please be patient if you are advised staff will call you back.
Do not leave your home if you have either:
a high temperature – this means you feel hot to touch on your chest or back (you do not need to measure your temperature)
a new, continuous cough – this means coughing a lot for more than an hour, or 3 or more coughing episodes in 24 hours (if you usually have a cough, it may be worse than usual)
loss or change to your sense of taste or smell
If you need medical help for any reason, do not go to places like a GP surgery, pharmacy or hospital. If you have symptoms of coronavirus (a high temperature or a new, continuous cough), use the 111 coronavirus service.
If you need help or advice not related to coronavirus:
for health information and advice, use the NHS website or your GP surgery website
for urgent medical help, use the NHS 111 online service – only call 111 if you're unable to get help online
for life-threatening emergencies, call 999 for an ambulance
How to get help during the coronavirus pandemic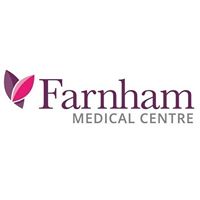 Our practice is highly patient-focused, and we have a multidisciplinary approach to patients' health care. We aim to deliver the best for our patients by combining the skills of the practice team with other health and social care workers in the community.
We provide modern health care facilities and focus on continually improving the health of our patients and residents of the community.
With this website, we aim to provide you with relevant information about our practice, our services and our staff in addition to some other useful information and tools available for you to use. Please have a look around and send us any comments or suggestions if you like. We can use your comments and ideas to improve our online services and develop the content of this site accordingly.
All patients at Farnham Medical Centre are allocated a named GP. If you do not know your named GP, please ask at reception, and you will be informed. This does not prevent you from seeing any GP in the practice, as you currently do.
WOULD YOU PREFER TO READ THIS WEBSITE IN ANOTHER LANGUAGE?
Google Translate offers a free automated translation although for whole websites this is now only available using Google's Chrome web browser.  Navigate to www.farnhammedicalcentre.nhs.uk on Chrome, and the browser will ask you if you want to translate our website into your default language.
A 'HEALTHY LIFESTYLE IS WHAT WE RECOMMEND':
Stop smoking
Eat a balanced diet with plenty of fruit and veg
Exercise regularly
Keep alcohol intake within recommended limits
FREE NHS HEALTH CHECK
If you are 40 to 74 years of age, find out about NHS Health Checks.
Even though you might be feeling great, if you are over forty you may be at risk of heart disease, stroke, kidney disease, diabetes or dementia.  An NHS Health Check can help you reduce these risks and make sure that you stay healthy.
Please make sure all of your details are up to date.
We will communicate with our patients via text message and email.