Dr Paul Crozier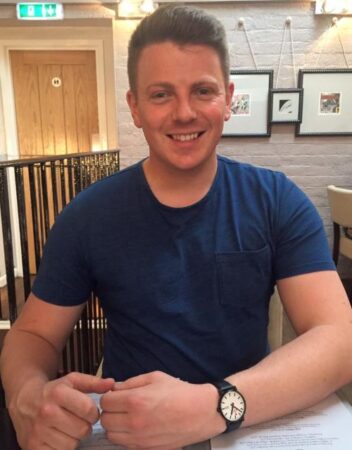 It is with immense sadness that we share the news that our much loved and respected GP, Dr Paul Crozier, has passed away.
Dr Crozier first came to us as a trainee GP in 2014, before joining the team full-time when he qualified in 2016.
Always a popular figure among patients, Dr Crozier was diagnosed with leukaemia in 2019 and had appeared to be doing well after a stem cell transplant in February 2020. Sadly, the cancer returned last summer and he passed away on 18 March.
Dr Shaun Sandbach, our senior partner, has said: "Paul always showed incredible enthusiasm, wisdom and kindness. We were all so happy for him three months ago when he was able to finally get married. We will all miss him so much, as will his patients, to whom he was so dedicated."
Jackie Lambert, our business manager, said: "Paul was always smiling. His enthusiasm for life was infectious, he loved his job first and foremost and it was his greatest wish to get back to work and do what he loved best.
"He never complained about this awful illness and he stayed positive throughout it all. We will miss him deeply."
Dr Crozier was an active supporter of the Anthony Nolan Trust, a charity that saves the lives of people with blood cancer or blood disorders, long before he became ill himself.
Doctors and staff at the practice are now planning a charity walk to remember Paul and raise money for the cause he cared so much about. Anyone who would like to donate is welcome to do so using Just Giving.
Weekly drop in clinics for your covid vaccine 
We will be running weekly drop in clinics at all three hubs on the following days and times starting week beginning 28th June:
The Glen Primary Care Centre, Hebburn, NE31 1NU  *Tuesdays 3-6pm*
Cleadon Park Primary Care Centre, South Shields, NE34 8PS *Thursdays 3-6pm*
Flagg court Health Centre, South Shields, NE33 2LS *Saturdays 3-6pm*
The above drop in clinics are for first doses for patients age 16+ with a health condition such as asthma , diabetes etc and all patients age 18+ who have not yet received their first dose.
COVID VACCINE PASSPORTS
The practice is unable to provide letters confirming covid vaccination status.  However, by downloading the NHS App, you will be able to access this information.  You will also be able to order your repeat medication, view parts of your medical record and view hospital appointments.  You can choose your preferred pharmacy and get health advice.  Download the App today.  If you do not have a smartphone, you will need to contact the covid helpline on 119 AFTER 17th May to arrange for a letter to be sent to you.  Please make sure you keep your contact details up to date with the practice as 119 do not have access to that information and will be relying on practice systems to get your letter to you.This must be at least 5 days after you have completed your course of the vaccine, the letter may to take up to 5 days to reach you.
Get the NHS App on your smartphone or tablet
IMPORTANT INFORMATION REGARDING COVID VACCINATIONS
The practice has received numerous enquiries about the covid vaccinations.  Practice staff will redirect most telephone and emailed enquiries to this site
The media have reported vaccines being wasted – this is not the case in South Tyneside.  We have had an excellent response to the invitations which have been offered and the vast majority of patients have attended their appointments.
Clinic lists are monitored closely by the site coordinators, vaccines counted numerous times a day and if it appears a patient has not attended, they are contacted to confirm attendance.  If they are not coming the site coordinators are geared to rebook these slots at very short notice to avoid wastage.
Patients will NOT be offered their second vaccination in the event of a no-show.  Goverment guidelines stipulate that unused vaccines MUST be reallocated to another vulnerable patient or frontline health worker receiving their FIRST injection.  This is to offer more vulnerable people some level of protection before proceeding to second injections.  Site coordinators have lists of patients and frontline health workers to contact at short notice to maximise protection and vaccine usage.  These are goverment instructions so practices are not in a postion to override.  As practices in our area have received complaints about this, we must stress that this is not our decision.
Patients will not be "bumped up" the groupings to get vaccine invitations earlier.  These cohorts have been defined by the government and will be strictly adhered to.  Practices have been asked by patients to prioritise them over more vulnerable patients due to their caregiver status or personal circumstances.  This will not happen.  Patients will be invited in strictly by the cohort they are in and no sooner.
This website will be kept up to date with the cohorts we are calling in.  This information may differ from what you see nationally as it relies on regular vaccine deliveries to our sites.  If you see that we have moved on to another cohort and you genuinely feel you have been missed, please submit an econsult enquiry using this website and staff will check your grouping and ensure you have not missed your invite.
We are unable to offer a choice of vaccines, unless patients have a documented allergy which precludes one or more of the vaccines in the programme.  Our patients can be reassured that all of the vaccines used to fight COVID-19 have been approved after stringent testing and they all offer a very similar level of protection once the course is completed.  No vaccine is recommended over any of the others which have been approved for use.
Further information can be found on the government website https://www.nhs.uk/conditions/coronavirus-covid-19/coronavirus-vaccination/coronavirus-vaccine/?priority-taxon=774cee22-d896-44c1-a611-e3109cce8eae
COVID 19 – VACCINE FRAUD
You will never be asked to pay for a covid vaccine by the NHS.  If you are asked for payment or your bank details, this is not from a genuine source and you should not hand over any money or personal details.
People are warned to be alert of theses scams:  COVID-19 Vaccine Fraud
IMPORTANT UPDATE REGARDING YOUR COVID VACCINATION
When you are eligible for your COVID vaccination you will receive a text message with a link to invite you to book your vaccination. Please be assured that this message is a genuine message from the practice. You will also receive this text to book in for your second dose.
Your text message will look like this:
Dear Mrs TEST,

You have been invited to book your

COVID-19 vaccinations.

Please click the link to book your vaccination times: accurx.thirdparty.nhs.uk/r/gjdnfhfrtf
If you do not have a registered telephone number the practice will contact you via letter to invite you to book your vaccination.
Covid Vaccine – patients over 55 and those with Underlying Conditions (as recognised by Government classification) now being immunised
We are co-ordinating our efforts to plan for a covid vaccination programme with other local practices.  Please make sure we have your up to date contact details – including mobile phone numbers – so we can communicate with you as effectively as possible.  You can use the admin feature of e-consult on this page to pass your details on for us to check.
Patients aged between 16 and 64 with underlying medical conditions are now invited to book in for their course of covid vaccinations.  THIS GROUP INCLUDES CARERS – IF YOU ARE A CARER YOU MUST TAKE YOUR PROOF TO YOUR APPOINTMENT (Proof can be carer's allowance or a carers passport.  If you have neither of these thngs, you must register with South Tyneside Adult Carers Service on 0191 4061531 who will provide a letter after assessment).
Clinics for patients of this practice will be held at Flagg Court in South Shields (not at the practice).  Please ring the local call centre on 0191 2831925  to book your appointments.  Demand is high so please be patient if you are advised staff will call you back.
Cohort Information:
Care home residents and frontline workers
80+ years of age – COMPLETE
75+ years of age – COMPLETE
70+ years of age and those classed as CEV – Clinically Extremely Vulnerable (previously knowen as those shielding) – COMPLETE
65+ years of age – COMPLETE
16-64 years of age with underlying medical conditions – UNDERWAY
60+ years of age – UNDERWAY
55+ years of age – UNDERWAY
50+ years of age – PLEASE AWAIT INVITE
Vaccine latest – 17 March 2021
More than 64,000 local people in South Tyneside (around half the adult population) have now had at least one dose of the Covid-19 vaccine, with many in the most vulnerable groups now receiving invitations for their second dose. We are on track to reach everyone in the first nine priority groups with first doses by mid-April.
If you are registered with a South Tyneside GP, in one of the first 8 vaccine priority groups and you have not had yours yet, please contact the local call centre on 0191 2831925 and they can book you into a local vaccine centre.
Local people aged 50-54 will receive invitations from local vaccine centres over the next two weeks – if they receive an invitation to a large vaccine centre like the Nightingale or Centre for Life in the meantime, it is OK to wait to get a vaccine locally if that is more practical for you. We're asking people in the age 50-54 group not to call your practice to ask about your jab – you'll be invited in the next two weeks.
Can Muslims take Covid Vaccines in Ramadan?
Muslims can take the Covid vaccine during Ramadan without it breaking their fast, a medical expert has confirmed.
On Good Morning Britain today (April 13), host Adil Ray and health editor Dr Hilary Jones were discussing people within the Muslim community getting their jabs as the holy month of Ramadan begins.
Millions of people across the UK and around the world will be celebrating the festival, which involves four weeks of fasting and prayer.
Adil told viewers: "It's the first day of Ramadan, where many Muslims, two or three million of them in this country now will be fasting.
"That means no water or food at all can pass through your mouth.
Ramadan, the ninth month of the Islamic calendar, begins with the first sighting of the new moon over Mecca in Saudi Arabia.
This year, it takes place between April 12 and May 12, with Muslims fasting during daylight hours.
It means they will have an early morning meal before dawn, followed by an evening meal after sunset.
Some vaccination sites will stay open later so Muslims can get vaccinated after breaking their fast in the evening.
But Dr Hilary added that due to the lack of nutritional value within the vaccine, there is no problem if Muslims cannot find any appointments after dark.
Do not leave your home if you have either:
a high temperature – this means you feel hot to touch on your chest or back (you do not need to measure your temperature)
a new, continuous cough – this means coughing a lot for more than an hour, or 3 or more coughing episodes in 24 hours (if you usually have a cough, it may be worse than usual)
loss or change to your sense of taste or smell
If you need medical help for any reason, do not go to places like a GP surgery, pharmacy or hospital. If you have symptoms of coronavirus (a high temperature or a new, continuous cough), use the 111 coronavirus service.
If you need help or advice not related to coronavirus:
for health information and advice, use the NHS website or your GP surgery website
for urgent medical help, use the NHS 111 online service – only call 111 if you're unable to get help online
for life-threatening emergencies, call 999 for an ambulance
How to get help during the coronavirus pandemic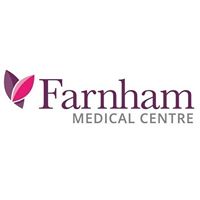 Our practice is highly patient-focused, and we have a multidisciplinary approach to patients' health care. We aim to deliver the best for our patients by combining the skills of the practice team with other health and social care workers in the community.
We provide modern health care facilities and focus on continually improving the health of our patients and residents of the community.
With this website, we aim to provide you with relevant information about our practice, our services and our staff in addition to some other useful information and tools available for you to use. Please have a look around and send us any comments or suggestions if you like. We can use your comments and ideas to improve our online services and develop the content of this site accordingly.
All patients at Farnham Medical Centre are allocated a named GP. If you do not know your named GP, please ask at reception, and you will be informed. This does not prevent you from seeing any GP in the practice, as you currently do.
WOULD YOU PREFER TO READ THIS WEBSITE IN ANOTHER LANGUAGE?
Google Translate offers a free automated translation although for whole websites this is now only available using Google's Chrome web browser.  Navigate to www.farnhammedicalcentre.nhs.uk on Chrome, and the browser will ask you if you want to translate our website into your default language.
A 'HEALTHY LIFESTYLE IS WHAT WE RECOMMEND':
Stop smoking
Eat a balanced diet with plenty of fruit and veg
Exercise regularly
Keep alcohol intake within recommended limits
FREE NHS HEALTH CHECK
If you are 40 to 74 years of age, find out about NHS Health Checks.
Even though you might be feeling great, if you are over forty you may be at risk of heart disease, stroke, kidney disease, diabetes or dementia.  An NHS Health Check can help you reduce these risks and make sure that you stay healthy.
Please make sure all of your details are up to date.
We will communicate with our patients via text message and email. 
Veteran Friendly Surgery
What is a veteran? – A 'veteran' whether on active duty , discharged or reservist, is someone who, at one point in their life, wrote a blank cheque made payable to 'Queen and Country' for an amout 'Up to and including their Life'. A former member of HM Armed Forces (HMAF), or a merchant navy seafarer or a fisherman who served in support of HMAF.
Farnham Medical Centre is an Armed Forces Veteran friendly accredited surgery. All veterans registered here at our surgery will receive and have access to approproate healthcare as per the military covenant. We commit to honour the Armed Forces Coveant and Support the Armed Forces Community. We recognise the value Serving Personnel, both regular and Reservists, Veterans and military families contribute to our business and our country.
The Military Covenant states, 'Veterans should receive priority treatment where it relates to a condition which results from their service in the Armed Forces, subject to clinical need.'
We are keen to support all Veterans and signpost to other services you may find useful too.