Please see below Pharmacy opening hours over the late May and Jubilee Bank Holidays
Click on the link and select South Tyneside
NHS COVID APP AND TRAVEL PASS
Please note that if you are travelling and require proof of vaccine via the NHS app and covid pass please make sure that you print or screenshot this as proof PRIOR to arriving at the airport as any trouble you incur either trying to load your app or proving your vaccine status can not be rectified by calling the surgery.
NOTICE OF BRANCH SURGERY CLOSURE
Dear Patients, Please be advised that our branch surgery at Stanhope Parade Health Centre is now PERMANENTLY CLOSED. Please see links below for more information. Many thanks.
Branch Surgery Closure for patients
PLEASE NOTE WHEN COMPLETING AN ECONSULT AS A WAY TO CONTACT THE SURGERY THAT THEY ARE NOT FOR EMERGENCY APPOINTMENTS OR URGENT QUERIES. PLEASE CALL THE SURGERY OR 111 FOR THOSE MATTERS. THANK YOU.
COVID-19 HAS NOT GONE AWAY…
The Prime Minister has announced new measures in response to the Omicron variant, including face coverings in shops and on public transport, PCR tests on or before day 2 for all international arrivals and self-isolation for contacts of suspected Omicron cases, including for those who are fully-vaccinated.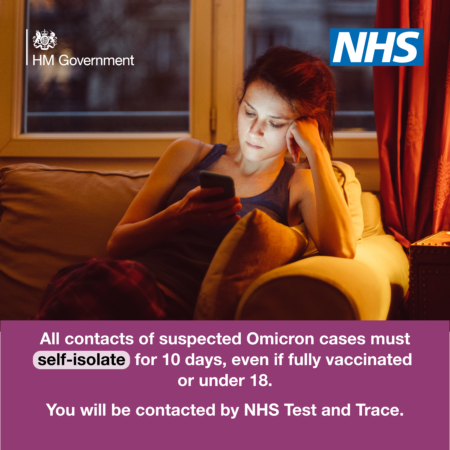 If you are informed you are a contact of Omicron variant, you MUST isolate for 10 days, EVEN IF YOU ARE FULLY VACCINATED. THIS INCLUDES UNDER 18S.
VISITING YOUR GP SURGERY
Covid 19 protections are still in place in this surgery. In line with current government guidance patients are required to continue to wear a face covering in all healthcare settings. Face coverings primarily protect others, so doing so – unless exempt – is key to preventing spread of infection. CONTINUE TO RESPECT 2m SOCIAL DISTANCING. Test and isolate if you have any symptoms.
Our practice is highly patient-focused, and we have a multidisciplinary approach to patients' health care. We aim to deliver the best for our patients by combining the skills of the practice team with other health and social care workers in the community.
We provide modern health care facilities and focus on continually improving the health of our patients and residents of the community.
With this website, we aim to provide you with relevant information about our practice, our services and our staff in addition to some other useful information and tools available for you to use. Please have a look around and send us any comments or suggestions if you like. We can use your comments and ideas to improve our online services and develop the content of this site accordingly.
All patients at Farnham Medical Centre are allocated a named GP. If you do not know your named GP, please ask at reception, and you will be informed. This does not prevent you from seeing any GP in the practice, as you currently do.
WOULD YOU PREFER TO READ THIS WEBSITE IN ANOTHER LANGUAGE?
Google Translate offers a free automated translation although for whole websites this is now only available using Google's Chrome web browser.  Navigate to www.farnhammedicalcentre.nhs.uk on Chrome, and the browser will ask you if you want to translate our website into your default language.
A 'HEALTHY LIFESTYLE IS WHAT WE RECOMMEND':
Stop smoking
Eat a balanced diet with plenty of fruit and veg
Exercise regularly
Keep alcohol intake within recommended limits
FREE NHS HEALTH CHECK
If you are 40 to 74 years of age, find out about NHS Health Checks.
Even though you might be feeling great, if you are over forty you may be at risk of heart disease, stroke, kidney disease, diabetes or dementia.  An NHS Health Check can help you reduce these risks and make sure that you stay healthy.
Please make sure all of your details are up to date.
We will communicate with our patients via text message and email. 
WORLD DIABETES DAY/ SUGAR AWARENESS WEEK
World diabetes day falls on November the 14th and also marks Sugaar awareness week. According to official figures from The British Diabetic Association. 1 in 15 people have diabetes and 1 million living with Type 2 without being diagnosed.
One of the most significant developments in treating patients with Type 2 diabetes is via metabolic surgery. To reduce perioperative complications, it is vital that the condition be as well controlled as possible before elective surgery and patients average blood glucose levels (HbA1c) are monitored.
Due to a global blood tube shortage at the moment we have only been able to request urgent bloods – however, if you have not had a diabetic review or diabetic bloods taken within the last 6-8 month please call the surgery and we can check this for you.