OUR PHONES ARE VERY BUSY BOOKING FLU APPOINTMENTS.  IF YOUR ENQUIRY IS NOT MEDICALLY URGENT YOU MAY FIND IT BENEFICIAL TO SUBMIT AN ECONSULT INSTEAD
FLU CLINICS
If you are eligible for a flu jab and did not manage to get to Living Waters Church, please contact reception to make an appointment to come up to the surgery to have it.
VISITING YOUR GP SURGERY
Covid 19 protections are still in place in this surgery. In line with current government guidance patients are required to continue to wear a face covering in all healthcare settings. Face coverings primarily protect others, so doing so – unless exempt – is key to preventing spread of infection. CONTINUE TO RESPECT 2m SOCIAL DISTANCING. Test and isolate if you have any symptoms.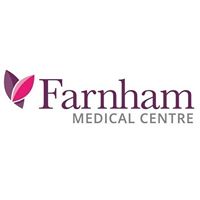 Our practice is highly patient-focused, and we have a multidisciplinary approach to patients' health care. We aim to deliver the best for our patients by combining the skills of the practice team with other health and social care workers in the community.
We provide modern health care facilities and focus on continually improving the health of our patients and residents of the community.
With this website, we aim to provide you with relevant information about our practice, our services and our staff in addition to some other useful information and tools available for you to use. Please have a look around and send us any comments or suggestions if you like. We can use your comments and ideas to improve our online services and develop the content of this site accordingly.
All patients at Farnham Medical Centre are allocated a named GP. If you do not know your named GP, please ask at reception, and you will be informed. This does not prevent you from seeing any GP in the practice, as you currently do.
WOULD YOU PREFER TO READ THIS WEBSITE IN ANOTHER LANGUAGE?
Google Translate offers a free automated translation although for whole websites this is now only available using Google's Chrome web browser.  Navigate to www.farnhammedicalcentre.nhs.uk on Chrome, and the browser will ask you if you want to translate our website into your default language.
A 'HEALTHY LIFESTYLE IS WHAT WE RECOMMEND':
Stop smoking
Eat a balanced diet with plenty of fruit and veg
Exercise regularly
Keep alcohol intake within recommended limits
FREE NHS HEALTH CHECK
If you are 40 to 74 years of age, find out about NHS Health Checks.
Even though you might be feeling great, if you are over forty you may be at risk of heart disease, stroke, kidney disease, diabetes or dementia.  An NHS Health Check can help you reduce these risks and make sure that you stay healthy.
Please make sure all of your details are up to date.
We will communicate with our patients via text message and email.